Management and optimization of operational projects
Implementation of R-MES and Reliability Engineering Service.
Client:
Lomas Bayas, mina de cobre
Objective:
To implement in mine management a reliability engineering tool and deliver monthly reports to identify opportunities for improvement.
Development of the case: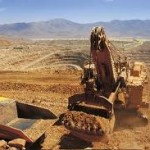 The goal was to provide a remote reliability engineering service in outsourcing mode, to facilitate and enable strategic decision making and tactical-operational, and identify any opportunities for improvement.
The stages of the project are strategic and organizational integration, quality assurance of information, logical-functional diagramming and reliability engineering reports.
The implementation of an area of reliability engineering allows to identify critical equipment and systems on the business and to determine the impact of various initiatives in the overall costs under a "life cycle cost" perspective. In this context, it is possible to determine the expected cost of failure based on the historical behavior of the equipment and segment them based on variables such as the frequency of failure, the cost of intervention, the intervention time and the instantaneous probability of failure, in order to determine the performance of the operation and give feedback to the maintenance and production areas.